For God so loved the world, that he gave his only begotten Son,
that whosoever believeth in him should not perish, but have everlasting life
John 3:16

Catch up with
Eddie on


Eddie on Facebook



CD Details
"Love Story (The Love God Has For You And Me)"
Back to Merchandise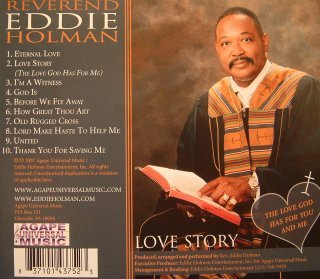 Use the player to listen to the samples. Song must be selected
Back to Merchandise

agape
[ah-gah-pey]
1.The love of God or Christ for mankind.
2.The love of Christians for other persons, corresponding to the love of God for humankind.